We Have Your Porch Roof Solution
Diamond Patios are Brisbane patio and porch roof specialists who help bring the outside inside, creating more living space by adding a roof to your outdoor porch or patio.
A porch or front porch can also be referred to as a front veranda – it is the area (usually paved) at the front entrance of your home.  You could refer to it as the 'outside front entrance area' in contrast to an indoor entrance hall.
For some Brisbane homes such as for some post-war homes the outdoor front entrance consists of timber stairs and a small elevated deck area as many of these homes are elevated.
Porch Roof Designs and Installation
There are several reasons why people seek the assistance of Diamond Patios to design and install an outdoor porch roof for their home:-
A roof over a porch provides shelter from the weather, shade from the hot Brisbane summer sun and protection from rain;
A roof over a front porch can add an additional living area, a spot to have a coffee, admire the garden or watch the sunset;
A well designed attractive porch roof can substantially add to the street appeal of your home and hence the value of your property; and
Diamond Patios:-

Have years of experience in designing and installing outdoor roofs and satisfying customers expectations;
Build porch roofs that last;
Know the ins and outs of council regulations; and
Is fully licensed and insured and are backed by a 15 years manufacturer's warranty and a 15 years workmanship warranty.
Diamond Patios Solutions
Are you ready to take the next step? We have a very simple process that allows us to streamline the design, the approval (if required) and the installation of your new outdoor roof.  If you have any questions please contact us and we will be more than happy to provide you with any information that you are looking for.
Front Porch Roof Ideas
The reason you are seeking a roof for your front porch (ie the function of your front porch) will probably impact on the ideas and designs that are best suited to your needs.
The design of your home will also impact on the type of porch roof that Diamond Patios recommend – or that you have in mind yourself.
Other factors that come into play include your budget, your preferred building materials, whether or not you are looking for an insulated roof, whether you are seeking a flat roof, a gabled or flyover roof.
Front porch roofs can be an extension of your current roof, can be installed under your current roof,  elevated above the roof of your home or can be free-standing.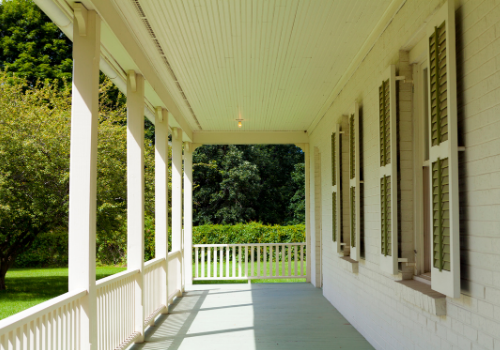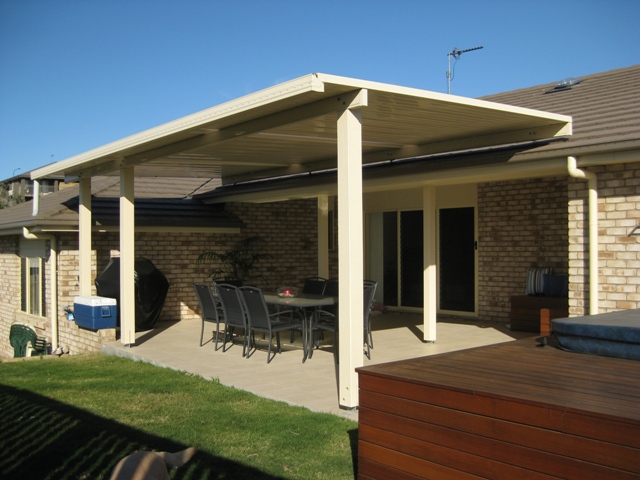 Modern Porch Roof Designs
The popular modern flyover roof that is used for patios and decks is equally suitable for your front porch.  There are several advantages of this modern roof design:-
As the porch roof is attached above the house roof it allows for airflow which means a much cooler more comfortable area to enjoy all year round in Brisbane.
There are a lot of design opportunities such as two overlapping flyover roofs at different angles creating a feature for your home and a modern up-to-date contemporary design.
A stylish flyover roof can be angled to best suit your aspect. An example of this would be a design that protects your porch from the hot western sun in the summer but allows the warm western winter sun in for you and your family to enjoy in this new additional living area.
'Traditional' Porch Roofs
For those Brisbane homes that are elevated above the ground, many have a porch that is in fact a small front deck.  In this instance, you may want to even extend the front deck and then add a porch cover creating an inviting area for guests and your family.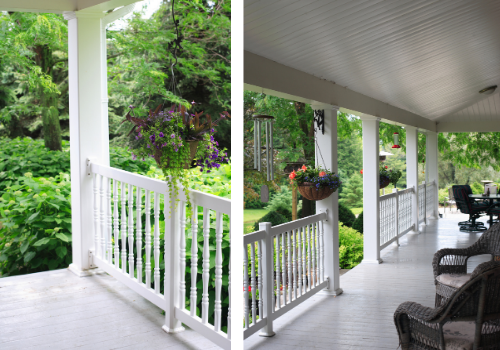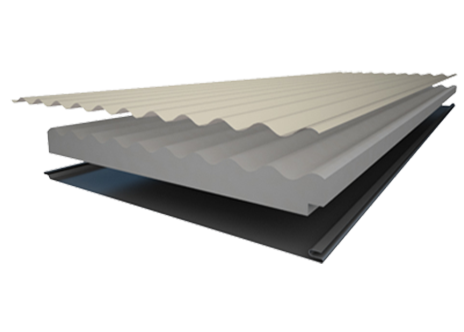 Insulated Roofing
The advantages to insulated porch roofing include:-
The most obvious advantage is that an insulated roof will reduce the amount of direct heat generated by the roof sheeting. In contrast to a single skin roof, an insulated roof has two sheets of metal between which lies the insulation.  For the additional small increase in investment most homeowners selected the more popular insulated roofing for their porch, patio and/or deck;
It is strong and has a span of 8 metres unsupported; and
There are a variety of different colours to choose from and two different profiles to choose from one of which is shown in the image below.