Get outside – no matter what the weather! Patio Covers create more undercover room for playing, fitness, reading, yoga, entertaining, footy watching, relaxing…
Patio Covers – Builders, Designers and Installers
SE Qld residents are moving… outside. As a city of sun lovers and entertainers, we are extending our living areas outdoors with Patio Roof Covers, embracing the great outdoors in our very own backyard. Diamond Patios Brisbane designs and build patio's, and entertaining areas for all budgets and styles in Brisbane the Gold Coast and Sunshine Coast. When planning your dream outdoor living area and the roof that covers it, there are a few things to consider.
Want to know what your patio roof will cost?
Click here to the cost calculator page and get an estimate, or feel free to contact us for an onsite measure and quote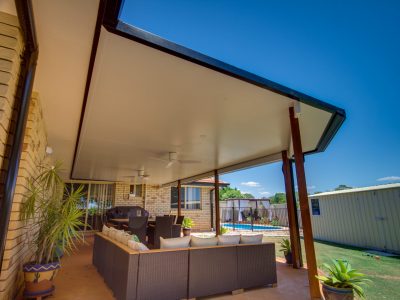 Insulated Patio Roofs.
Excellent climate control with the innovative insulated panel. Our Insulated Panel provides a stunning ceiling, roofing, and insulation all in one.
Our Insulated Panel is very strong and can span significant lengths without support.  At the same time to gives fantastic thermal performance. Insulated Panel is fairly easy to install. It has an inbuilt channel to conceal the wiring for lights, fans, speakers and heaters.
There are five insulation thicknesses to choose from; 50 mm, 75 mm, 100mm, 125 mm, and 150 mm. Each thickness has greater spanning ability and increasing levels of insulation. There is a wide range of popular colours for the topside. So you can integrate your existing colour schemes.
Our Insulated Panel has exceptional strength. This allows it to span up to 8 metres unsupported. Having large spans reduces the amount of framework and beams required. This provides clear views and an uncluttered appearance.
You have two top profiles to choose from: either the traditional corrugated shape of the Insulated Panel CGI or the high performance decking shape of the Classic Trimdek Insulated Panel. For the underside ceiling, there is a smooth matt finishes. The roof side comes in a choice of colours to match in with your overall house look.
INSULATED PANEL INSULATION RATING (R VALUE)
R Value (m2K/W) at 14°C Mean Temp
50 mm Panel 1.27 @ 1.48
75 mm Panel 1.91 @ 2.11
100mm Panel 2.54 @ 2.75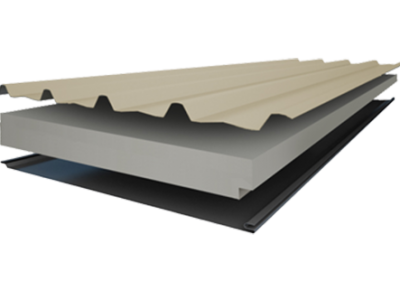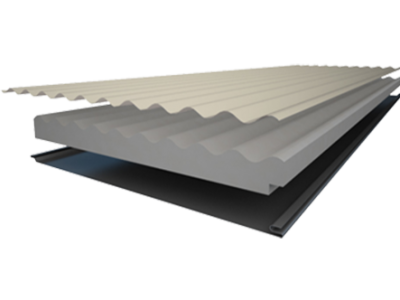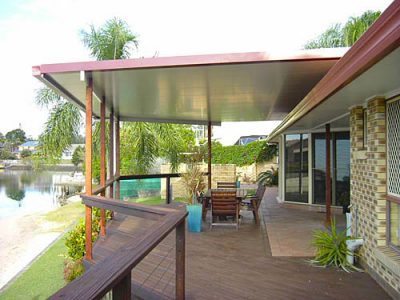 Flyover or Raised Patio Covers.
A flyover or raised roof is a very popular new look for patio roofs. A flyover roof provides a modern finish while giving a wide open space feel and extra headroom.
Choose from either insulated or V-line roofing. Insulated roofing offers a smooth clean ceiling. It is like having a living room roof over your patio or deck. This creates a flow between your outdoor and indoor living spaces. Insulated panels have special channels to hide all your electrical wiring for down-lights, ceiling fans and heating. V-line roofing will require more cross beams, but is just as effective.
To make your patio roof extension look natural the gutter and accessories are made to match your home and it's current design. Insulated panels come in 5 different thicknesses, making them suited to small areas as well as large spans. Thicknesses include: 50mm 75mm 100mm. Roofing options also include corrugated, to match your house roof, or the classic style for a minimal pitch design.
Our Recent Brisbane Patio Cover Projects