Your Pets Living the Dream in a Super Fun Outdoor Run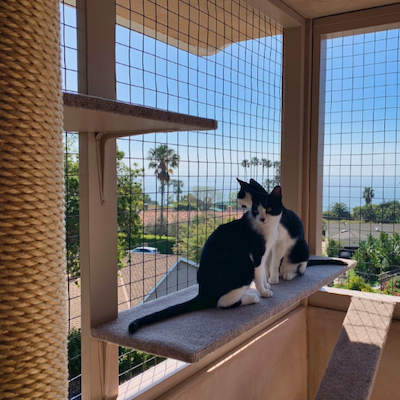 Patio Pet Enclosure – Designers, Builders, and Installers
Are you concerned your pets don't get enough fresh air and sunshine? The SE Qld weather is perfect for pets to be outside most of the year round. But you also want to keep them safe. Our custom-built pet enclosures, also known as cat runs, catios or dog runs, can provide a secure and stimulating environment for your furry friends. If you have a pergola or patio roof we can build under this. Or we can build it with a new whole or partial patio or pergola roof. Our team of experienced professionals can design and build the perfect solution for you.
If you live in Brisbane, the Gold or Sunshine Coast or anywhere in between  contact us for an onsite measure and quote
Benefits of Building a Pet Enclosure
There are several reasons why pet owners opt to build enclosures for their dogs and cats, including:
Safety: Your animals can have outside time without harming the wildlife or themselves
Exercise: Depending on the size your pets can run, jump, and play in a dedicated space, which can promote physical health and mental stimulation.
Fresh Air and Sunshine: pets love breezes and sunshine. They can laze around a enjoy the glorious Qld days
Mental Stimulation: Pets also require mental stimulation to prevent boredom and anxiety. A pet run can offer a new environment for pets to explore, providing them with new sights, smells, and sounds to keep them entertained. They will love watching the birds.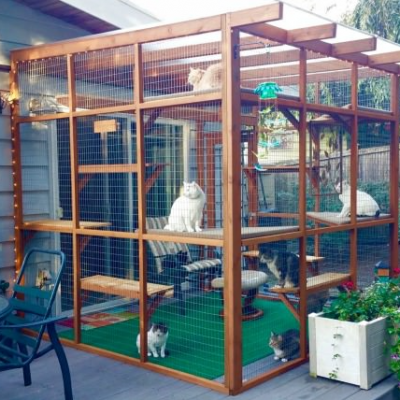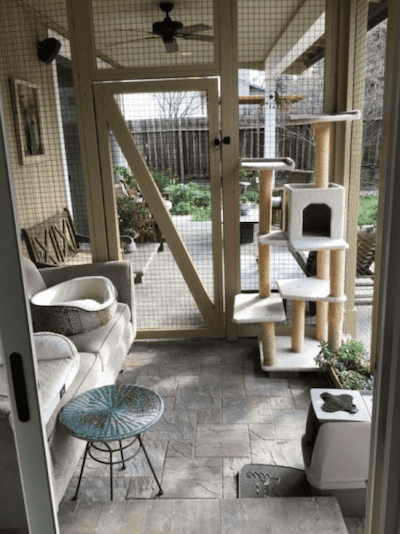 Why Choose Our Pet Enclosure Building Service?
At Diamond Patios, we understand that each pet and home has unique needs and preferences. That's why we offer custom pet enclosure designs to ensure the perfect fit for your requirements. Our team will collaborate with you to create a tailored solution that meets your pet's needs and complements your home's style and architecture.
Our Pet Enclosure Building Process
Our process for building a pet enclosure typically includes the following steps:
Consultation: We'll schedule a consultation to discuss your pet's needs and your vision for the enclosure.
Design: Our team will create a custom design that meets your specific requirements and preferences.
Materials: We use only high-quality materials to ensure the safety and durability of your pet enclosure.
Construction: Our experienced team will construct your enclosure on under your patio roof or as part of your new patio.
Finishing Touches: We will add any finishing touches to make your pet enclosure look and function beautifully.
Final Inspection: We will conduct a final inspection to ensure that your pet enclosure meets our high standards of quality and safety.
Get in Touch with Us Today!
If you're interested in building a cat enclosure under your patio or as part of a new patio, contact us at Diamond Patios today! Our team of experts is ready to help you create a safe and secure outdoor space for your furry friends.
More Design ideas