Factors Affecting Patio Roof Construction Price
Firstly, What is a Patio Roof?
(Also known as a Patio Cover)
The Patio originated in Spain. The original meaning of the word is an inner courtyard with no roof.  Throughout time the meaning has changed to now describe a gathering area, usually at the rear of the home, near the back entrance. A Patio roof is the protective roof over this outdoor entertaining area.
Installing a Patio roof is an awesome idea that will extend the time of outdoor living patio use throughout the whole year.
Without the shade offered by a patio roof, it may simply be too hot in the Queensland Summer to enjoy your outdoor entertaining area.  Unpleasant Winter weather can also limit the use of outdoor area.  Installing a patio roof protects you from the harsh Queensland weather and extends your outdoor living to all year round.
Each patio roof installed is different.  It needs to fit with your plans, your lifestyle, and the look of your home. Diamond Patios will run through all the options before making the decision on which patio roof to install.
Your outdoor floor area might be pavers, concrete or a timber deck.  You might decide on an insulated patio roof or a non-insulated.  Or you might choose to have the patio roof attached to your house or have it installed as a flyover separate from the house.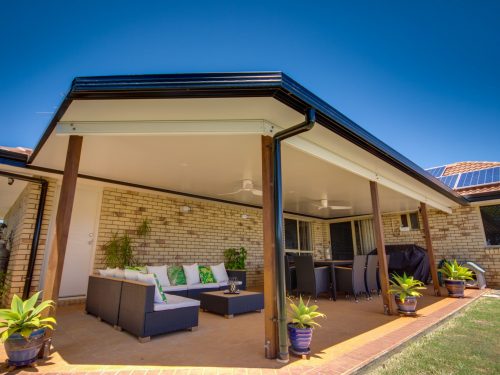 Patio Roof Price Considerations
There are quite a few factors that affect the price of Patio roofing.  At Diamond Patios we will discuss all the options with you. This gives you peace of mind and you will be happy with your decision for years to come.
Some factors that affect the cost are:
Size and shape – what is the area of patio roof? A larger patio will need more materials and will take more time to construct, hence size is one of the main cost factors in your chosen patio roof.
Materials – do you prefer steel or timber posts? Do you want an insulated roof (cooler in summer/warmer in winter) or not?
Flooring – what material is the floor of the patio? Is the flooring existing or is that to be constructed as well? You may decide on concrete, paving, tiles, wood decking, brick, or natural stone as a floor for the patio area.
Attachment – is the patio roof to be attached to the roof of your home or installed separately as a flyover?
Functionality – is electricity, gas or plumbing required to the patio area?
Accessibility – is the area flat level ground, or raised? Is there room to get equipment into the area?
All of Diamond Patios roofs withstand Queensland's harsh weather conditions.  Storms or blistering heat, your outdoor patio area will be protected from exposure to the elements.
A patio is an awesome addition to the home. Apart from increasing the value of your home, it also gives you the luxury of an outdoor entertaining space all year round so that you can enjoy our beautiful Queensland lifestyle.
To get started give us a call or email or click on our quote calculator below to the right or top right.