Factors Affecting Patio Roof Construction Price
Firstly, What is an Insulated Patio Roof?
(Also known as an Insulated Patio Cover)
An insulated patio roof has foam material between the aluminium panels.  This type of roof will cost more than one that is not insulated, but the additional cost of the insulated roof will give you:
Climate control – the patio area will be kept cooler in Queensland's hot Summer and warmer in Winter, making the entertaining area more comfortable all year round.
Noise reduction – helps reduce noise from wind and rain, therefore easier to hold outdoor conversations in all weather conditions.
House temperature – the patio acts as a protective barrier to the outside elements and will also help keep the home cooler in Summer and retain more heat in Winter.
Save Money – spend less on your energy bills to cool and heat the home.
Help the environment – by reducing your carbon footprint.
Increased property value – adding an insulated patio to the home will increase the property valuation.
Without the protection and shade offered by an insulated patio roof, it may simply be too hot to enjoy your outdoor entertaining area in the extreme Queensland Summer.  Installing an insulated patio roof protects you from the harsh Queensland weather and extends your outdoor living to all year round.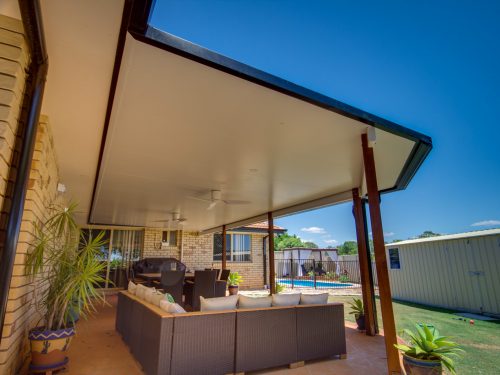 Insulated Patio Roof Price Considerations
Just like non-insulated patio roofs, there are several factors that will affect the price to install your insulated patio roof.
At Diamond Patios we will discuss all the options with you to ensure you are 100% happy with your purchase decision.  Some factors that will affect the price include:
Size and shape of the roof area
Materials used in construction
Floor type
Attached or separate to the house
Accessibility to the patio area
Additional costs – electrical, gas, water connections
All of Diamond Patios roofs are designed to withstand Queensland's harsh weather conditions.  Storms or blistering heat, your outdoor patio area will be protected from exposure to the elements.
An insulated patio is an awesome addition to the home. Apart from increasing the value of your home, it also gives you the luxury of an outdoor entertaining space all year round so that you can enjoy our beautiful Queensland lifestyle to the max.
To get started give us a call or email or click on our quote calculator below to the right or top right.