Factors Affecting Carport Pricing
Firstly, What is a Carport?
The term carport loosely translated means a covered portal, it comes from the French term porte-cochere.  It is a structure with a roof designed to protect all types of vehicles from the weather elements.
In Queensland, we experience some extreme weather.  Installing a carport to protect your vehicle from extreme heat, sun damage, tropical storms and hail is a good investment.  A carport can be attached to a wall or free-standing and generally has one or two walls and at least two open sides.
Carports not only protect cars – you can also protect your other assets such as:
Motor homes
Caravans
Camper trailers
Boats
Trailers
Horse Floats
4WDs
Motorcycles
Bicycles
Buses
Tractors and farm equipment
Heavy machinery
Carports can be built anywhere on the property – front, back or side of the home.
They also come in various sizes and configurations whether you need to protect a single vehicle or multiple vehicles.  The height of the carport can also be adjusted to accommodate larger vehicles like buses, tractors, and heavy machinery. See more carport designs.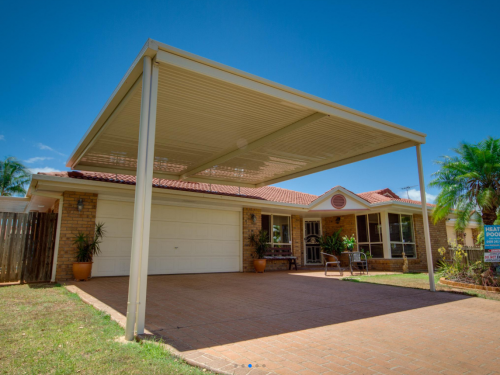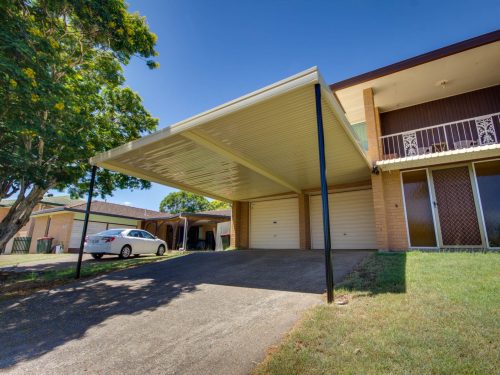 Carport Price Considerations
There are many factors that will affect the price of constructing your carport. Some of these considerations include:
Size and shape of the carport. What is the total roof area?  Is it a normal rectangular shape carport or a different shape?  A larger area will require more materials, and an odd shape may require more supports and posts.
Materials and Style. What materials are to be used in construction? Steel vs timber posts, size and durability of posts based on height and size of structure.
Are you considering gravel, bitumen, or concrete slab? Consider the versatility to use the carport as an entertaining area as well when vehicles not parked underneath structure.
Stand alone or attached. Will the carport be attached to the house or stand alone?
Site accessibility. Is there easy access to get materials and equipment to the area?
Local Council regulations and fees.
A carport is an awesome addition to the home. It will protect your vehicles from the harsh Queensland weather, and can add value to your home when designed and installed professionally.
To get started give us a call or email or click on our quote calculator below to the right or top right.